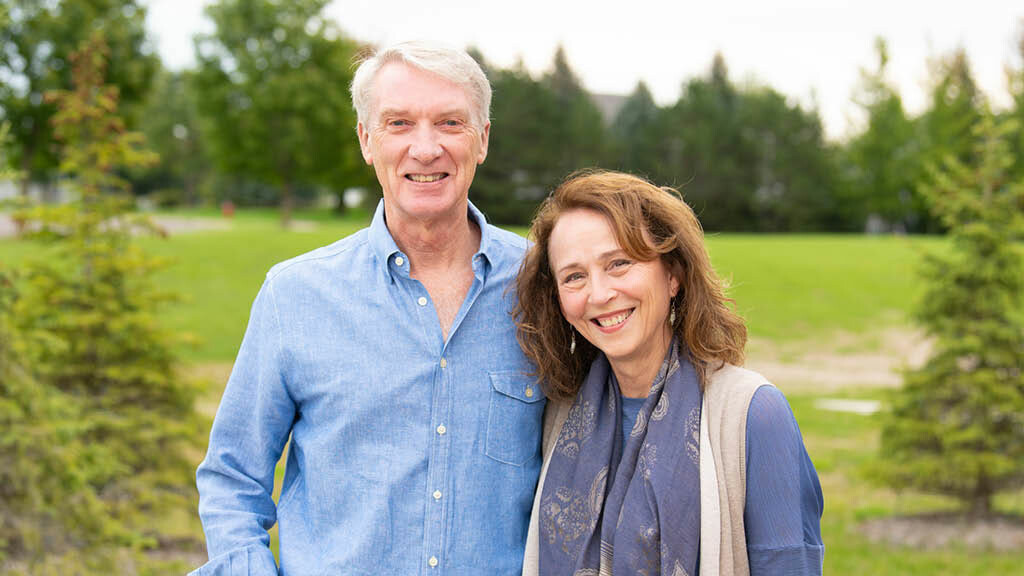 From a young age Brekke learned how to be "in" with a tough crowd without participating in nefarious activities. Born in Rochester, MN, his family moved to California when he was around 8 or 9 years old. As a teen, he learned how to make alliances with kids in their rough neighborhood by befriending those engaged in questionable activities.
When his family moved back to Minnesota, he attended a tough south-side Minneapolis Junior High School. Three days in, there was an altercation with another student which led his parents to yank him out and enroll him in the local Lutheran school. By the time he hit the age of 13 he'd seen the bad side and the good side, and decided he wanted to be on the good side.
After marrying his lovely wife Reina in 1980, the Brekke's settled into a life in the southwest metro suburbs that was a little more tame than during his formative years. Given his interest in joining the police force, he first earned an A.A. in Law Enforcement then a B.A. in History/Political Science. While completing these undergrad degrees, he started working at Dayton Hudson—first as a cook, then in security, a foreshadowing of his future leadership positions.
By the time he hit the age of 13 he'd seen the bad side and the good side, and decided he wanted to be on the good side.
While attending Wooddale Church, Senior Pastor Leith Anderson (who had married Brad and Reina) encouraged Brekke to pursue an M.A. in Theological Studies at Bethel Seminary prior to completing his law school degree. This interlude provided a grounding in scripture that seemed unrelated professionally, but provided valuable spiritual formation. The ultimate goal of all this formal education was to get into the FBI.
He started the arduous process of applying for the academy while still in law school, and was accepted and sent to Quantico, VA in the fall of 1986, shortly after the birth of his first son. During the rigorous four months of military-like training he wasn't allowed to leave the base. At Christmas, when he went home to Minnesota to see his family, Ian was already two months old.
He got his first FBI field agent assignment in March 1987 in Tampa, FL, a position he jokingly calls the "badge and gun routine." During his service in Florida, he saw all sorts of criminal activity from drug trafficking to white-collar crime. One of the most challenging cases was with a sociopath named George Trepal, a mild-mannered but brilliant man who was eventually convicted of poisoning his neighbors—killing the mother, and causing two of the sons to linger in the hospital for months on end, fighting for their lives. (The details of this murder investigation are told in Poison Mind: The True Story of the Mensa Murder, and a young FBI agent named Brad Brekke weaves in and out of the narrative.) After several years in that post, he was sent to Chicago, IL
Chicago was tough. The stories you hear about mobs and crime in Chi-Town are far from fiction. While the work in public corruption was interesting for Brad, the long hours weren't family-friendly now that they had a second son. Brad and Reina made a list of their life values as a couple, and the number one priority was family. Brad got a call out of the blue from a friend offering him a position in a law firm, work that would be more 9-to-5 than the FBI. The Brekke's moved back to Minnesota, settling in Shoreview where they dove into being active members at Christ Community Church and stayed through the merge with Calvary Church in 2005.
"Sin is real. This is why faith matters—justice is what you can see, and grace is what you can give."
Brekke practiced law in the Twin Cities for a year before admitting the work just didn't, in his words, make "his heart beat faster." When retail giant Dayton Hudson offered him an opportunity to develop new training and protocol for security, as well as to build bridges between public and private sectors, he jumped at the chance. This move eventually led to his appointment as V.P. of Asset Protection and Corporate Security for Target, where he served for 20 years.
Retiring from Target didn't mean slowing down. The couple moved to Washington, DC where Brad established a consulting practice. He was then asked by the FBI to set up an office to enable corporations to partner with the Bureau in information sharing. The goal: to address criminal activity, espionage, terrorism, and cybercrimes—all threats to private sector industries. For the next three years he was ensconced in the FBI director's staff.
2017 was a pivotal year. Brekke's dad came down with cancer, and frequent trips from DC to Minneapolis were a necessity. Unfortunately, his work with the FBI didn't offer the flexibility he needed to be a present caregiver and make family his first priority. Recognizing the hand of God in an unexpected phone call, Brekke accepted a request to consult for Mayo Clinic as it gave him the pathway to move back to the Midwest.
With a house in North Oaks, the Brekke's were again in close proximity to Calvary Church's White Bear Campus, a church they were familiar with from previous years living in Shoreview. Here they resonate with the biblical teaching, enjoy the worship music, and love the connections made with other couples their age. Brekke continues to find more consulting work where he can, advising corporations on security strategy and organization.
Throughout his career, Brad has pursued everyone from gritty street crime perpetrators to masterminds of slick white-collar crimes. In Florida, doing drug busts, he would find cocaine stuffed under a baby's mattress. "How do you deal with that?" Brekke asks. "The crimes against women and children... those are all pretty taxing on the soul. So it's real. Sin is real. This is why faith matters—justice is what you can see, and grace is what you can give."
"We often focus on the visible, the known sins, the sins of the criminal and that's been my world. But there are many hidden sins, committed in secret or in the heart. The heart of God, the mission of the church, is to reach all, because God's grace is needed for all."
Brekke sees his job not to judge, but to bring justice, and then pray for grace and mercy for those he's helped to convict. He also doesn't believe in the death penalty. If he's done his job of pursuing justice, he can give it to God, praying for the mercy that's deserved. Because of that, he doesn't take it home with him nor has his work kept him up at night. "Those in law enforcement who don't have faith internalize everything and can't let it go. They have seen the worst of humanity, and they often see no justice. They become angry, and perhaps filled with hate, and lose empathy for other human beings," says Brekke. He's seen that on the faces of his peers and says that's a dangerous place to be. "If you have no grace to give, your soul may suffer, and you may get hardened in this line of work."
He's never knowingly brought someone to Christ, but he's been able to influence others by having empathy, consoling, counseling, and mentoring. Brekke feels he's been called to this work by God, and his mission is to pursue justice and protect people. He has seen the hand of God at work, sometimes in justice, sometimes in grace. He didn't aspire to be in the leadership roles that God has given him, so he recognizes how God has used his mission for his glory.
"We often focus on the visible, the known sins, the sins of the criminal and that's been my world. But there are many hidden sins, committed in secret or in the heart. Romans 3:23 says, 'All have sinned and fall short of the glory of God.' The heart of God, the mission of the church, is to reach all, because God's grace is needed for all."