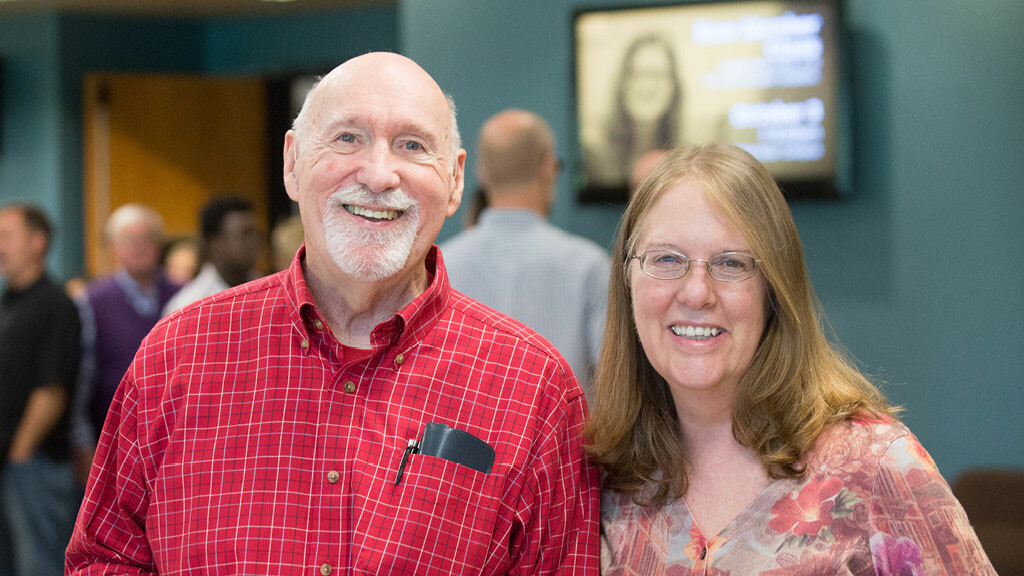 Sometimes it's the littlest things that make the biggest difference. Like sending a simple postcard to connect and encourage. Or being a shoulder to (literally) lean on when needed.
Ask Vicki Holmgren what these acts of kindness from George Robinson meant to her, and she'd say they made her feel warmly welcomed. George first met Vicki when he was a Greeter at White Bear Campus. She asked him how you meet people at Calvary, and he told her by attending mid-size classes and getting into a Small Group. A few years went by before Vicki accepted an invitation from another Calvary attender, Pam Videen, to join a Small Group with the Robinson's, Elaine Reiter, and Esther Ford. She says having the support of a group like this has really helped solidify the already strong relationship she had developed with George and his wife, Gretchen.
But we need to back up a bit to tell the whole story. When Vicki first started attending White Bear Campus, George noticed that Vicki had trouble navigating the walk from the parking lot to the Worship Center, so he would go out and meet her at her car, and offer an arm to hold onto. George has vertigo, but he says that hasn't stopped him from giving Vicki, who suffers from MS, the help she needs to get in and out of the church building.
Giving physical support is one thing, but George has gone the extra mile to give Vicki emotional support, too. A former art professor at Bethel University, George has creativity oozing from his pores. For years he's been making eclectic photo collage postcards to send to friends and family, and many in our congregation have been the lucky recipients of these treasures.
In December of 2013, George started sending his famous postcards to Vicki, often once a week. She found the quirky artwork entertaining, but it was the connection that grew through his recounting of daily activities, updates on his and Gretchen's art dalliances, and inquiries about her health that made a difference in her life.
"Knowing they are here, waiting for me gets me to come to church. And if George is a little late sending a postcard one week, I call to ask him where my postcard is!" laughs Vicki.
George says, "It's just fun to make the postcards! I love having someone to send them to. But I also know she's waiting for them, so it's not just making them for fun. It's an expression of love. I love to make them and she loves getting them!"
Through all this, George and Gretchen have become first-call friends for Vicki (who is a single mom), checking in with her by phone every week, and driving her to frequent doctor appointments.
George has proven it's a blessing to use your gifts for God's glory—and a little effort can go a long way toward welcoming and encouraging others. And it can happen one postcard at a time.