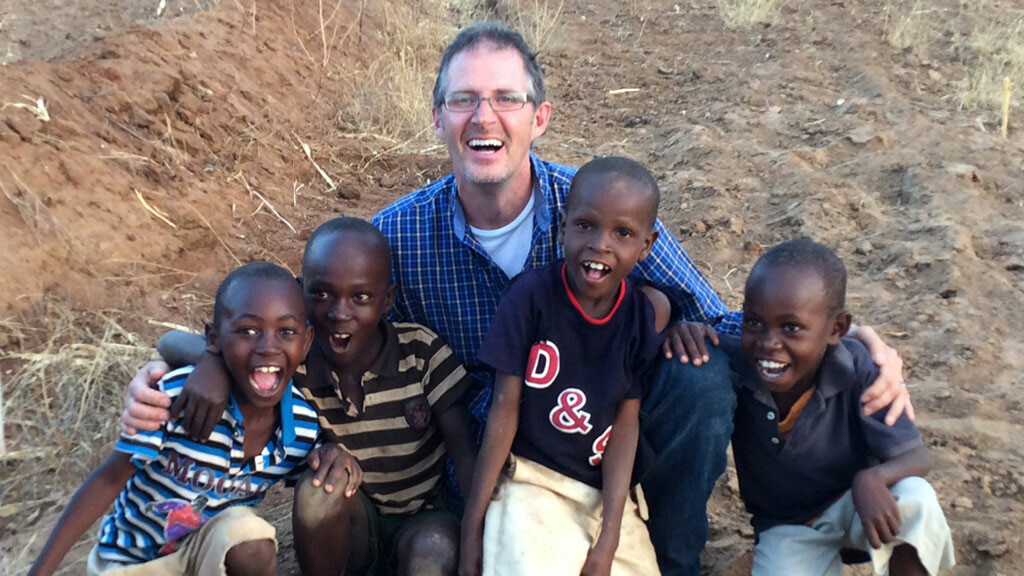 When I grow up, I want to be a... chicken missionary. Not a normal childhood career goal. So, how did Calvary's newest Impact partner Jim Adkins end up spreading the Gospel through teaching chicken farming?
Jim's had a love affair with birds as long as he can remember. As a child, he occupied himself by making the family home bird-friendly with scores of bird feeders, birdbaths, birdhouses—anything to attract birds and get them to hang around. He just loved watching anything avian.
When his parents tired of the Wisconsin snow, they packed up the family to head out west. Settling on a 5-acre plot of land in Vancouver, Washington meant they had space to raise chickens, so Jim's father headed to the local feed store and purchased their first birds—some Rhode Island Reds and Cornish Cross chicks.
Even though Jim still has scars on the back of his legs from attacks by his first Rhode Island Red rooster, King Tut, he fell in love with his new feathered friends. Soon, he joined the nearest 4-H chapter poultry club, and participated in county and state fairs.
When a Field Supervisor position for a large Californian turkey producer came up, Jim jumped at the chance to get paid to raise turkeys organically and naturally, as the company stated was their policy. It didn't take him long to realize that the conditions the turkeys were raised in were less than optimum. It disturbed him greatly to see how livestock were treated due to the industrialization of the business.
In frustration, he quit that job to pursue his passion, preaching the gospel of raising healthy poultry everywhere. But why not combine his love for the Lord with his love for chickens, and share the one true Gospel as well? Out of this idea, Global Poultry Initiative (GPI) was hatched.
Now Jim and his wife Melissa travel all over the world teaching sustainable poultry farming. Their vision? "To educate, equip, and empower indigenous people with the character, knowledge, and skills to breed, grow, and market sustainable, productive, and profitable poultry." In short, teach others around the world how to make chicken farming their livelihood for a lifetime.
They have a 3-step process for bringing GPI into a country. First, they prayerfully consider every invitation they receive, and address the request through an application process. The most crucial criteria that must be met before they move forward, is to have a point person and a team of indigenous people committed to making disciples and developing sustainable agricultural models.
Next comes assessment. They arrange a survey trip to visit the country for 8-10 days, to interact with the indigenous farmers, evaluate the poultry, climate, grain resources, and opportunities for disciple-making.
The last step is to appoint a lead person and a national service team. Once these crucial people are determined, they're trained in a GPI Strategy Seminar. The crux of this training is to create disciples through sustainable farming—raising chickens is the means to spread the Gospel.
But GPI doesn't just train up farmers to teach and share the Good News. They've also put a 5-year plan in place to follow up with their poultry producers, supporting and encouraging them to breed long-term success. Jim and Melissa are currently setting people up to be chicken missionaries in Ethiopia, Cameroon, and Kenya, multiplying their vision as they go.
Jim planned an assessment trip to Haiti for November 2017, in hopes of bringing sustainable poultry farming to the families of our partner churches in that impoverished country. The relationship Calvary Church's Impact Pastor Vonn Dornbush has built with Miradiau and Dula Estinvil in Port-au-Prince has paved the way for GPI to go into Haiti. This is our mission statement in action—building relationships, seeing Jesus transform lives.
And it all started with a few chickens.