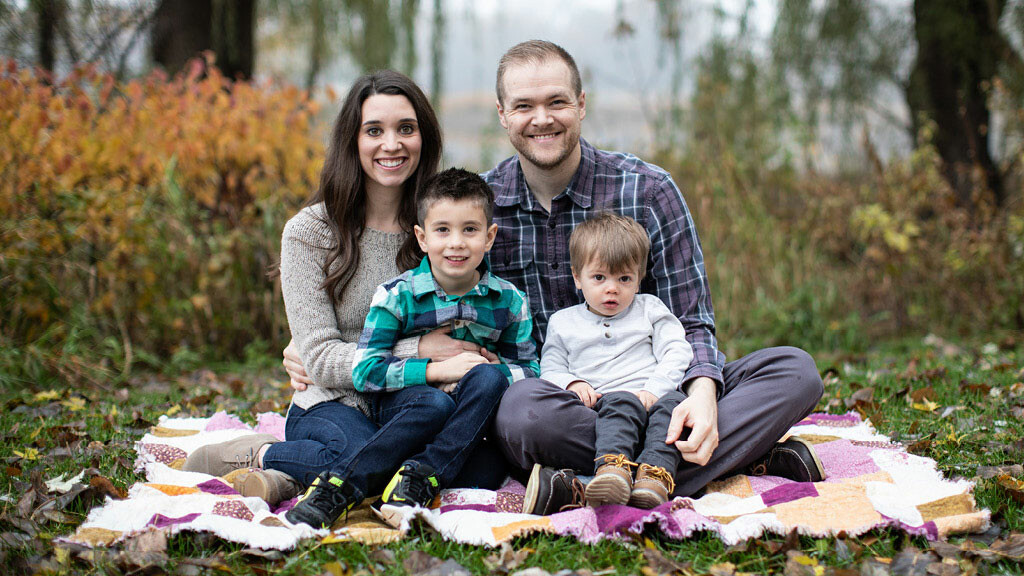 What if living with less meant more of God? What if you were intentional about using what God's given you for his Glory? Those are questions Phill and Angela Schmidt started asking themselves a few years ago as they each traveled their own faith journeys.
Phill Schmidt and Angela Rodriguez met at Trout Lake Camp in the summer of 2009. Phill was a Super-Senior at Bethel University, and Angela had just finished her freshman year at Gordon College in Massachusetts. Neither of them really wanted to have a camp romance but when Phill's sister introduced them, they just clicked. They describe their camp courtship as "dating on steroids." Being together every day for 10 weeks provides a unique opportunity to really get to know someone.
After dating long-distance for a few years, they got married on June 8, 2012. God surprised them with a little blessing when Paxton arrived in May of 2013. They decided that Phill would be the stay-at-home parent for their new baby, and Angela would continue working outside the home.
They bought their first home in 2016, shortly before their second son, Augustine (Gus) made his appearance.
They'd been attending Calvary's White Bear Campus for about four years when Shawn's morning message affirmed thoughts Angela was having regarding materialism. Shawn had talked about how to become more generous people. He put out the challenge to make space in our lives—both time and budget—so we can respond when God sends an opportunity to serve or meet a need. Pastor Shawn gave an illustration about how many Americans have so much stuff that they have to use public storage units to keep things they don't need. Angela really resonated with this story. She didn't want to be the typical American, living in excess, and wasting her life.
Meanwhile, Phill started going through a lot of heart changes over the next few years. He'd always done things because he had to as a Christian, out of duty not desire. But he started craving a passionate relationship with the Lord, a real, personal, daily connection with our Creator. He felt he was doing things in excess that he should not be doing, like overeating. In fact, he felt like he was "overeating" in many areas of his life.
He was tired of living a life of overconsumption, and he wanted to take intentional steps to change that.
Together, he and Angela started looking at what they truly needed so they could be more giving Christians. They didn't want to be people who just lived to plan the next vacation. "Radical" by David Platt gave voice to the things they were feeling. It questioned lavish lives lived by people in our culture and talked about taking a stand to live intentionally.
While they started out on separate paths, they were led to the same place. They both wanted to live authentically for the Lord and were wrestling with some heavy concepts. But how do you put counter-cultural ideas like these into practice? Phill and Angela knew God had provided their New Brighton home, and they wanted every inch of their 1,400 square feet to be used and used to glorify God. As they are a social couple, they started being very intentional (see that word again?) about getting to know neighbors and inviting kids over to play. And their corner-lot house has a big back yard which makes it a perfect gathering spot for friends.
Continuing to look for ways to utilize what God had given them, Phill used his snowblower to serve his 99-year-old next-door neighbor, keeping his driveway clear all winter long. They then looked for other avenues for doing nice things for others. This led to ideas for expanding beyond National Night Out. Why not hang out with your neighbors more than once a year?
As school started and families moved into hibernation mode, Phill wanted to keep connections alive in spite of the weather turning colder. Paper invites and emails were sent out for an Oktoberfest party at Schmidt's house. They would provide drinks, snacks, games, and a bonfire.
And then they prayed. They prayed that God would use this party to open up spiritual conversations with their neighbors that would flow naturally, and not be forced. And God answered their prayers! Conversations cycled around kids, and neighbors talked of wanting to get back into church with their children. Schmidt's told people about their church, and why they make the drive to White Bear Township each Sunday.
During the party, one family mentioned their daughter was getting her tonsils out. So Phill offered to bring a meal. When he found out another neighbor's wife was in the hospital, Phill suggested he could pray for her, and his kind offer was accepted.
No on-the-spot conversions took place. No one appeared at church with them on Sunday. But a seed was planted at this event, and they plan to continue to nurture that seed and hope to watch it grow.
In another of Phill's favorite books, "The Gospel Comes with a House Key" author Rosaria Butterfield talks about simply opening your home and heart to others. That is exactly what Phill and Angela are doing.
Intentionally.